Ashley and Rocky fell in love as high school sweethearts that lived down the street from each other. They grew up going on dates to the county fair and playing beach volleyball in the summers. The couple stayed together throughout college, and upon their engagement knew they wanted to host a large wedding. They dreamed of celebrating their union with the many people whom had taken part in their growing love over the years. And so they shared their vows in front of 200 of their dearest friends and family overlooking the warm Hawaiian waters on their home island of Maui.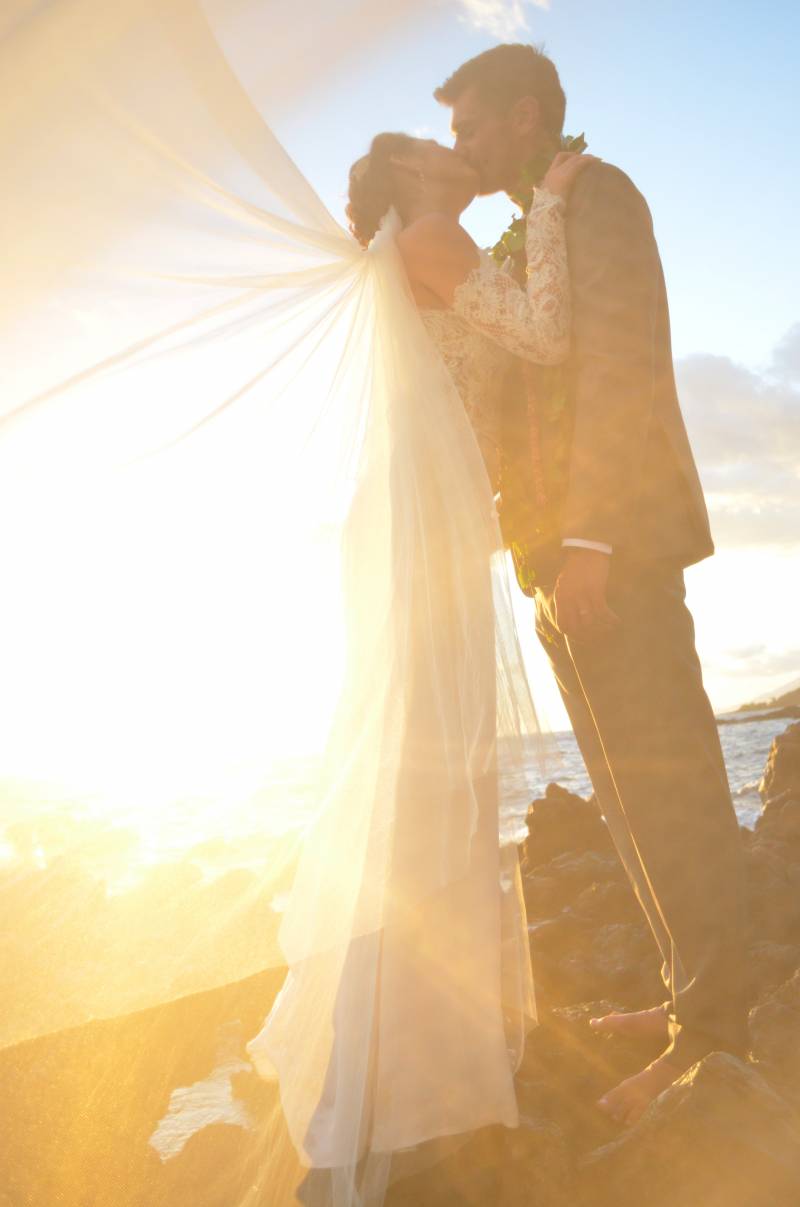 From the Bride:
The eve before the wedding, my best friend Alana and I stayed up until 2:30 in the morning laying outside under the stars and dreaming of our futures. We spent the entire night giggling, tearing up, and bursting with anticipation. I woke up in the morning with her by my side, enveloped in love and feeling completely calm and ready.
Ashley's bouquet was secured with her grandmother's pin as her something old and wrapped in silk hand-died blue ribbon for her something blue. For her something new, she wore gold and mother of pearl tassel earrings for an elegant bohemian statement. And most lovely of all, a vintage French prayer book in deep blue velvet served as the bride's something borrowed.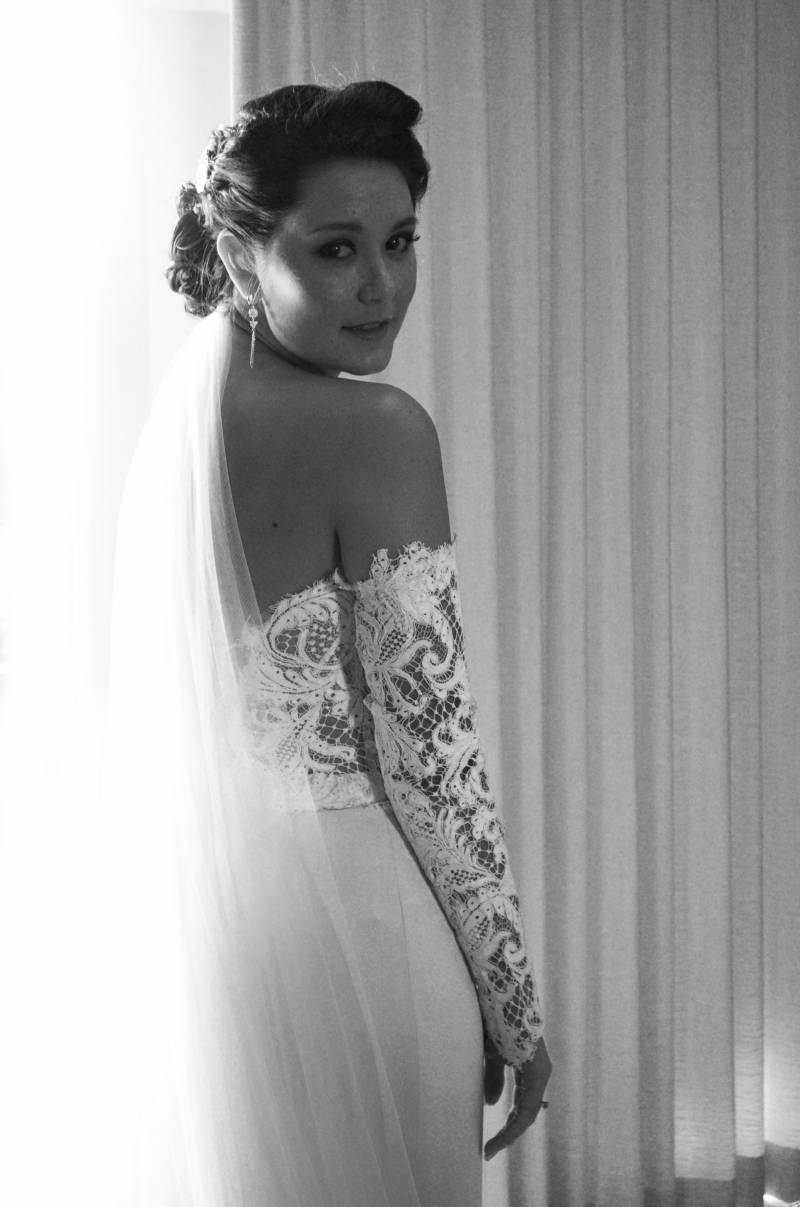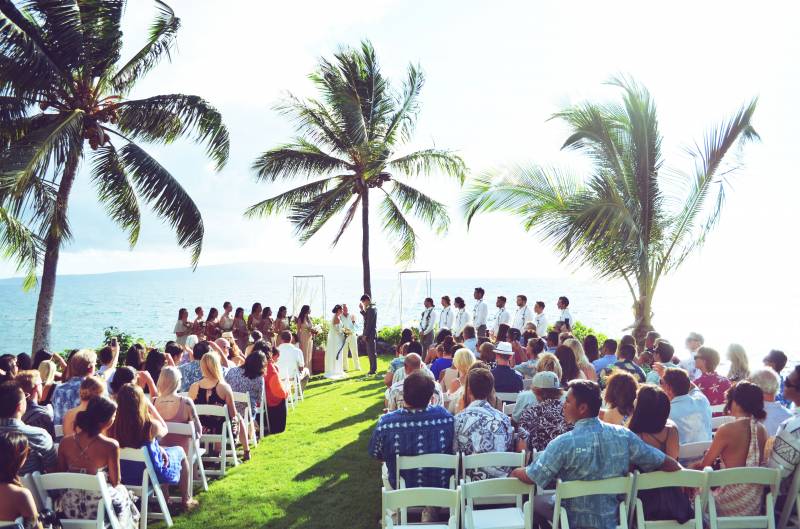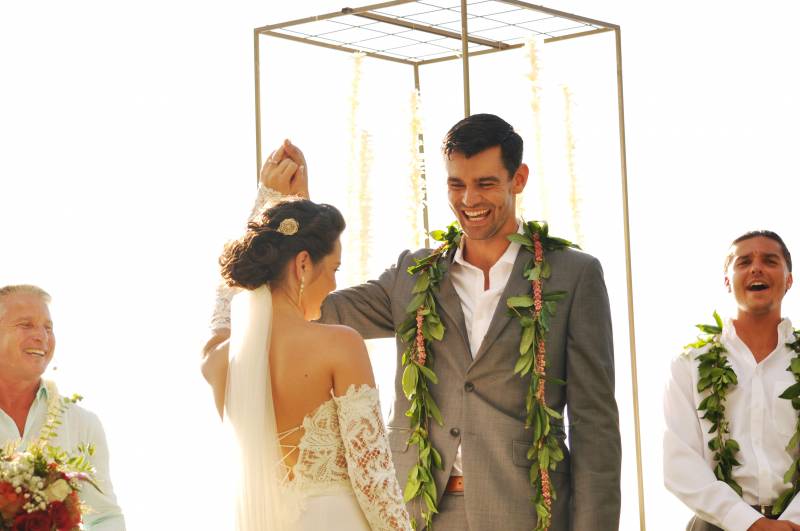 From the Bride:
The best advice we received was to take a quiet moment to ourselves as husband and wife right after the ceremony. After we walked down the aisle, our coordinator whisked us into a private room where we took five minutes to share an intimate toast of champagne with each other and allow the moment to sink in. It was the sweetest few stolen minutes that Rocky and I have ever had together, and we will always have that private moment from our wedding to keep for ourselves.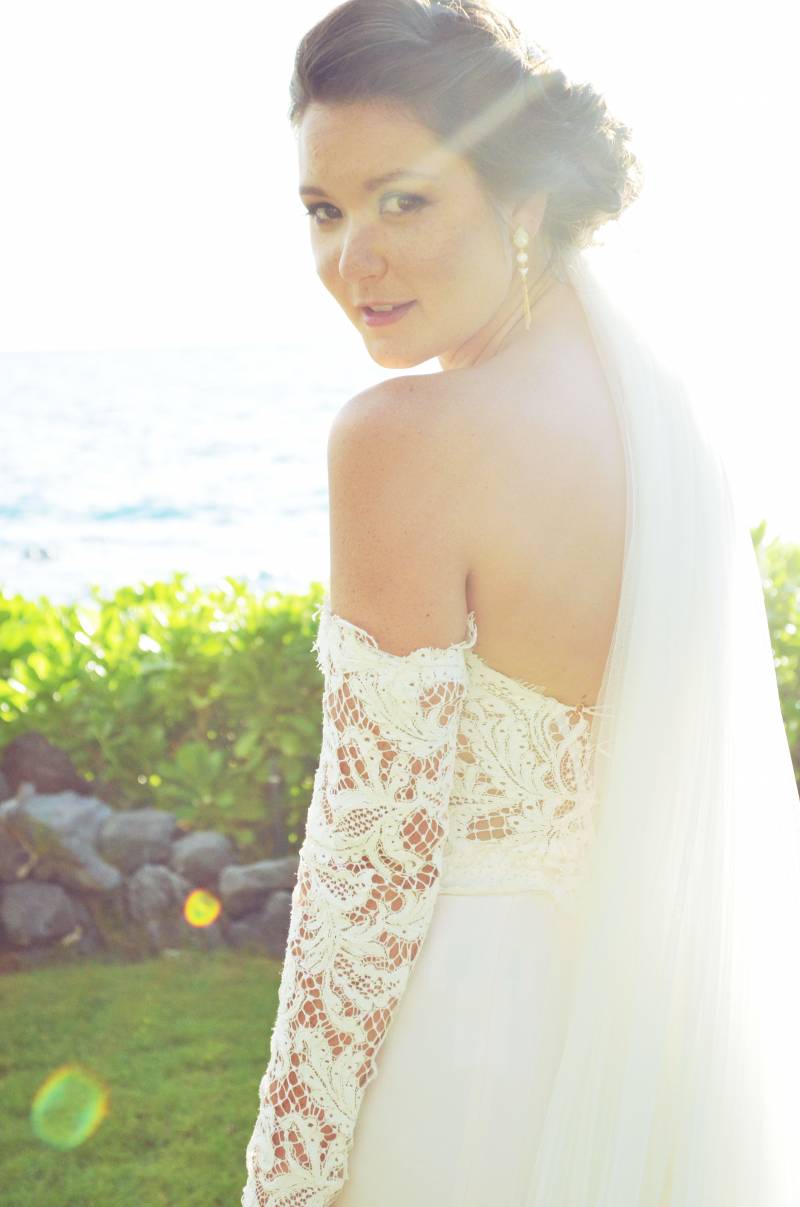 Jessica of Jessica Waite Makeup Artistry created a more natural bridal beauty look that still showed off Ashley's freckles. She then styled the bride's long hair in an old fashioned up-do, accented with a vintage gold hair piece to perfectly complement the chic bohemian design of her off-the-shoulder gown.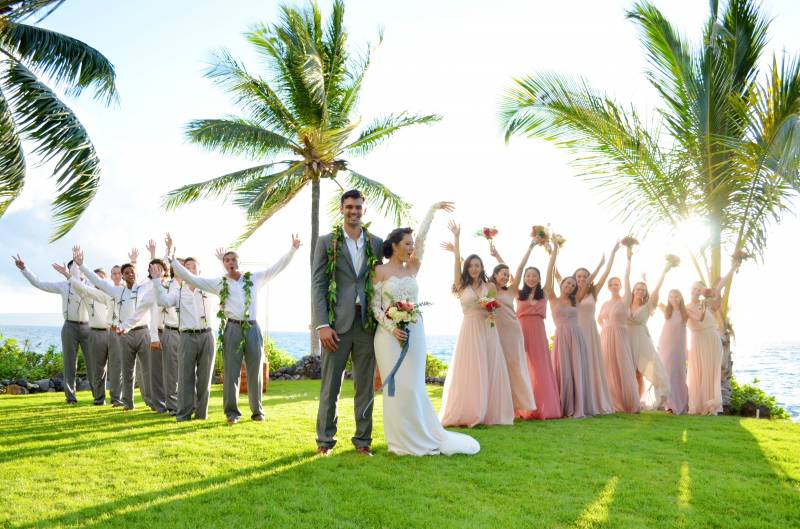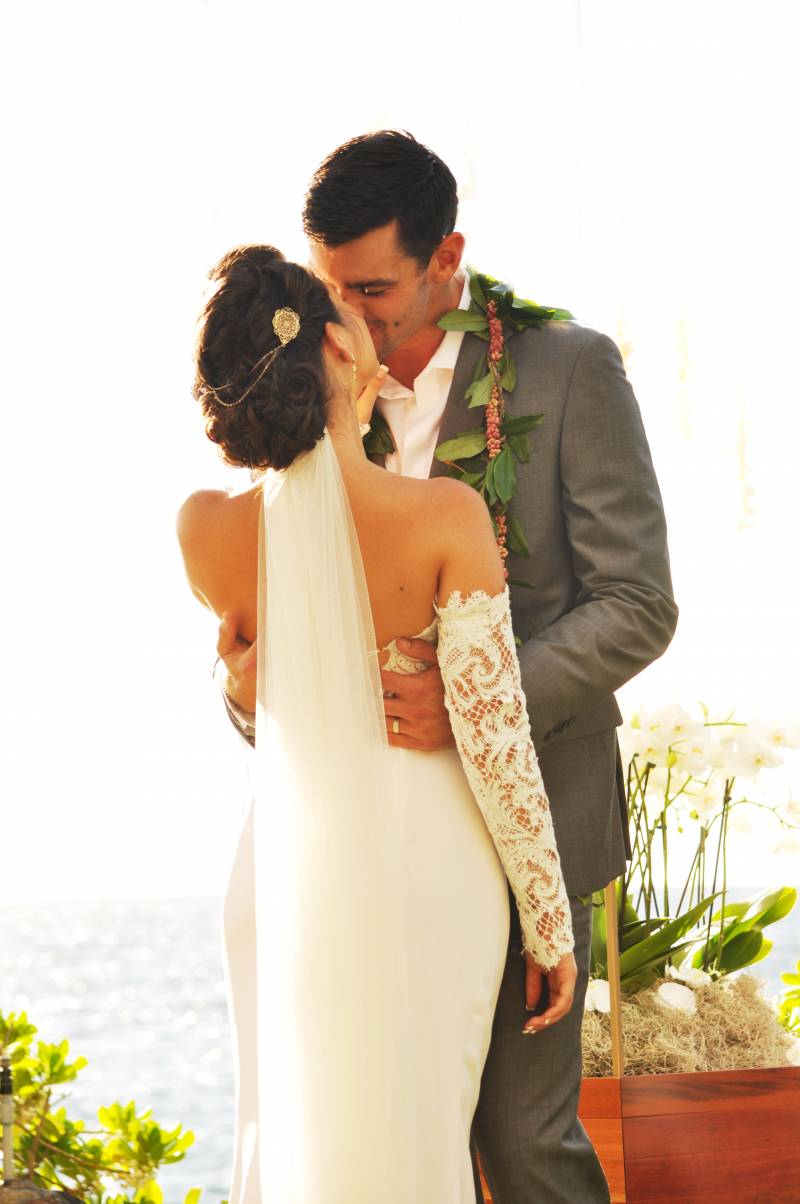 While the bridesmaids held petite bouquets of roses, the shoulders of the groomsmen were adorned by ti leaf leis. The groom and his brother wore leis of maile, and Rocky's was intertwined with special he'e berries.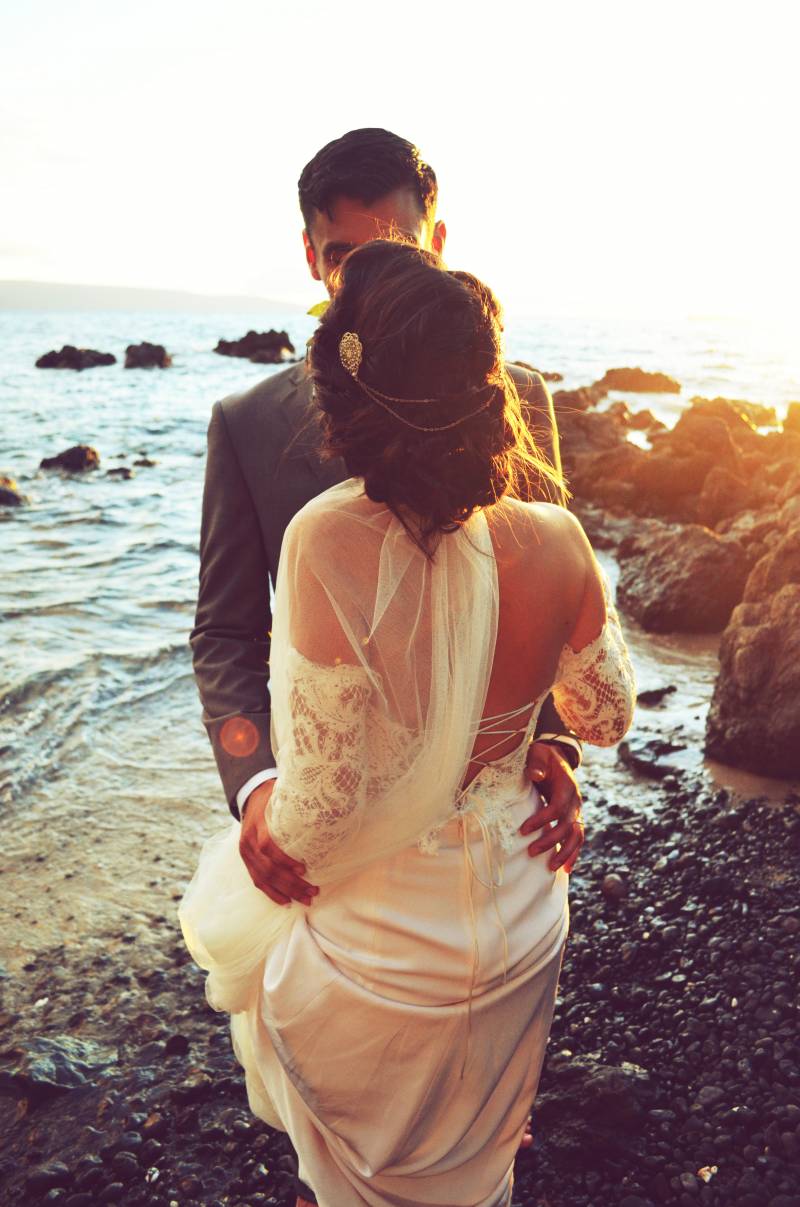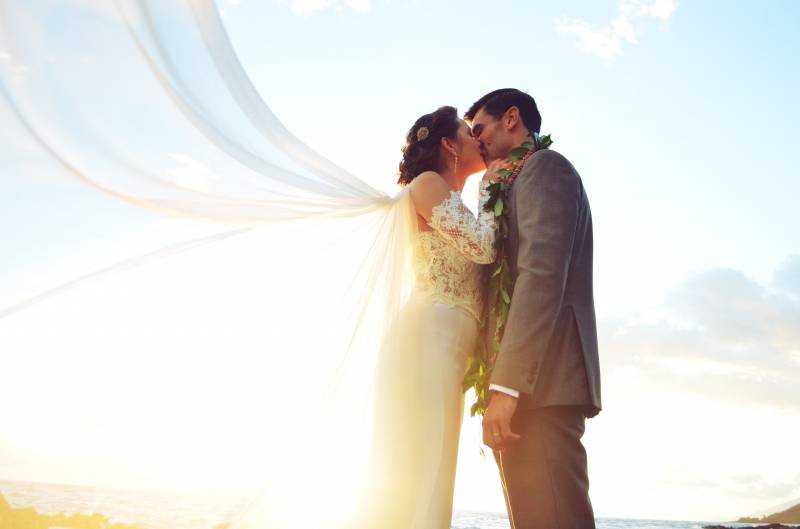 The Gown:
Ashley was traveling through Budapest with her girlfriends a few months after her engagement. Deciding that every girl should have the opportunity to go wedding dress shopping in Europe, they made a last minute appointment at a local wedding salon. The shop belonged to the mother of the emerging Hungarian designer Nora Sarman. Ashley tried on her very first couture line and fell in love with the French lace and Italian silk of each delicate piece. A few months later, she traveled back to Budapest with her fiancé to pick up her custom couture two-piece gown and flew it back home to Hawaii.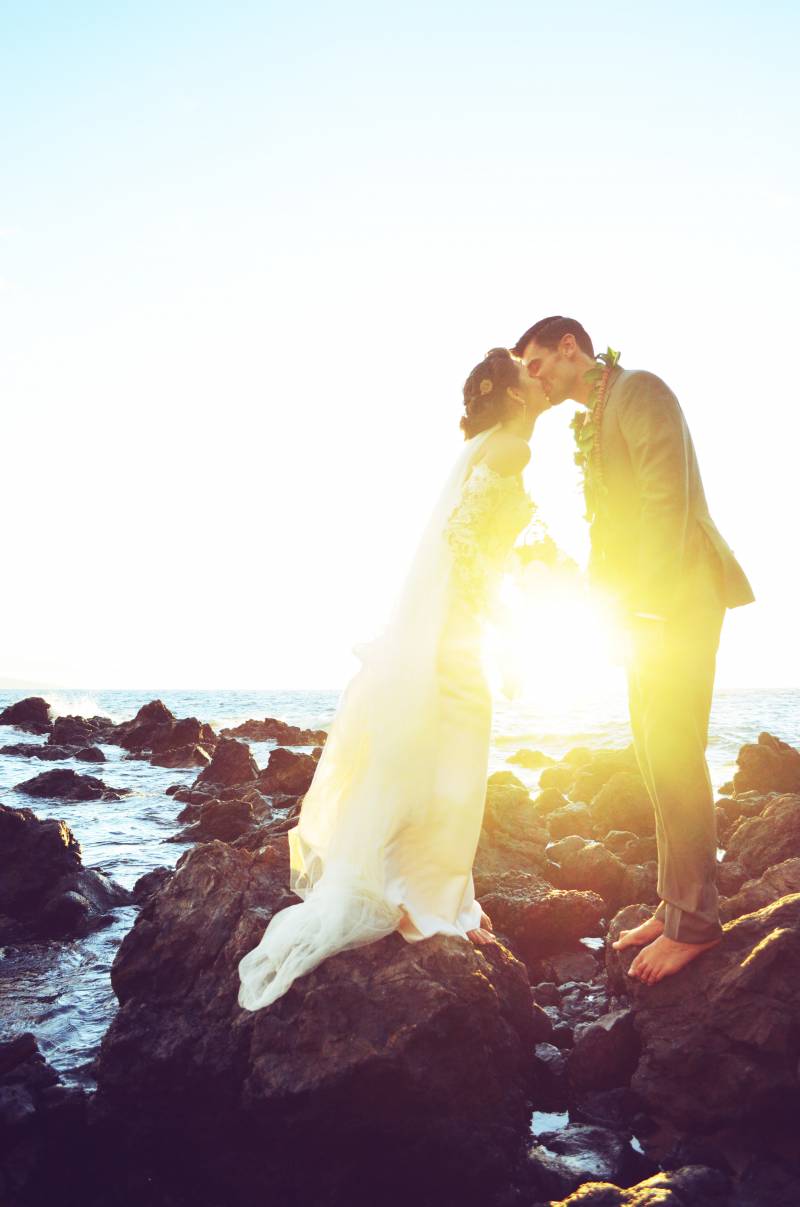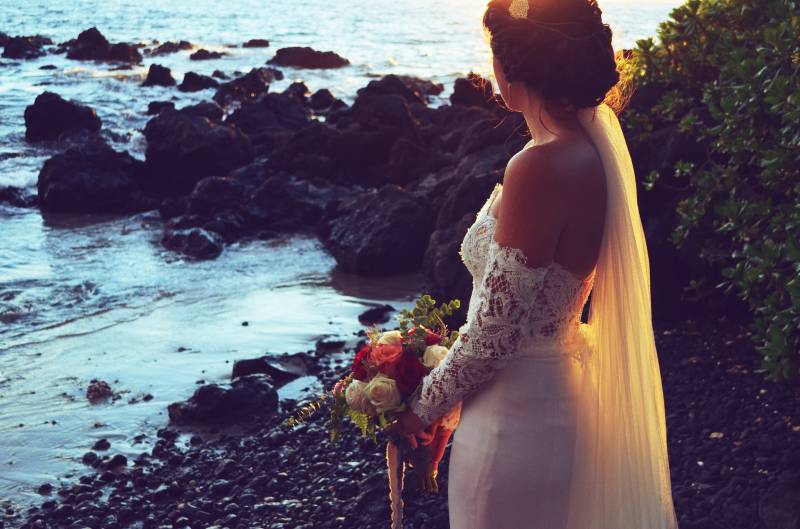 Maui-raised photographer Pi'ikea Karlen photographed the incredible vibrancy of the Makena sunset with remarkable grace. Her candid style and focus on light captured the beauty of the day with remarkable radiance.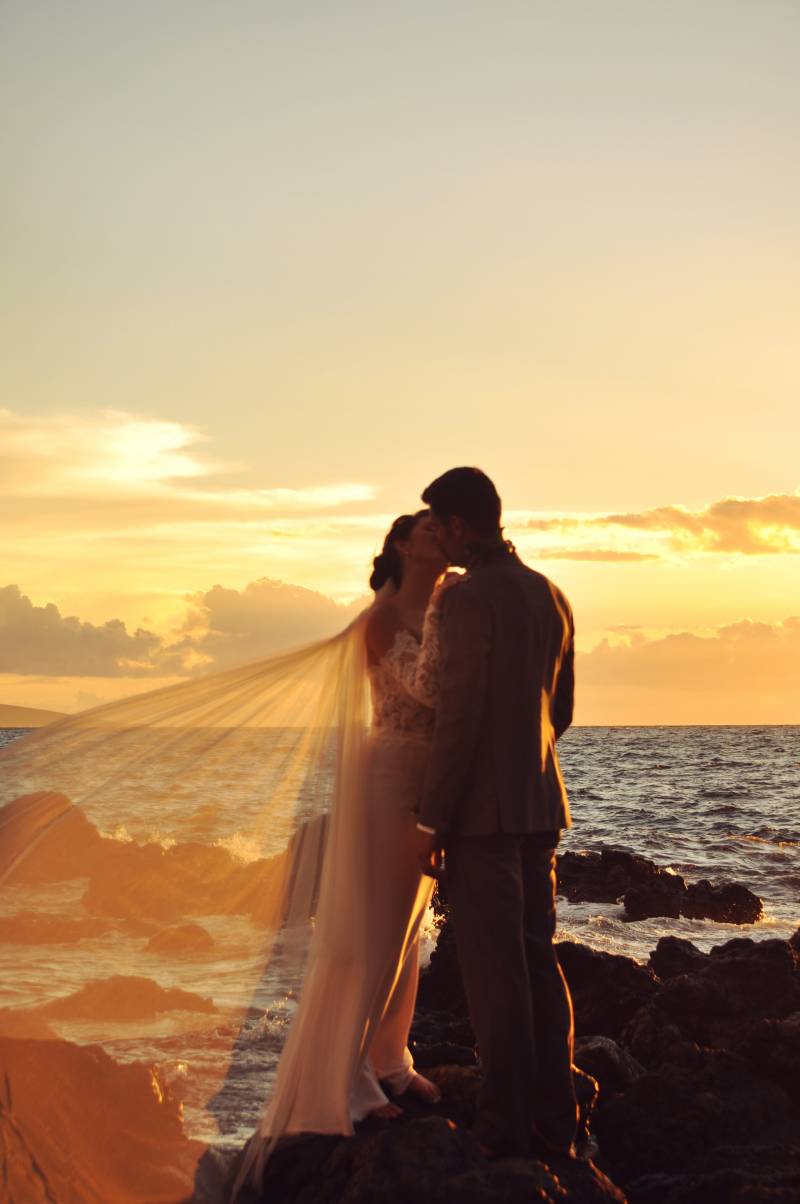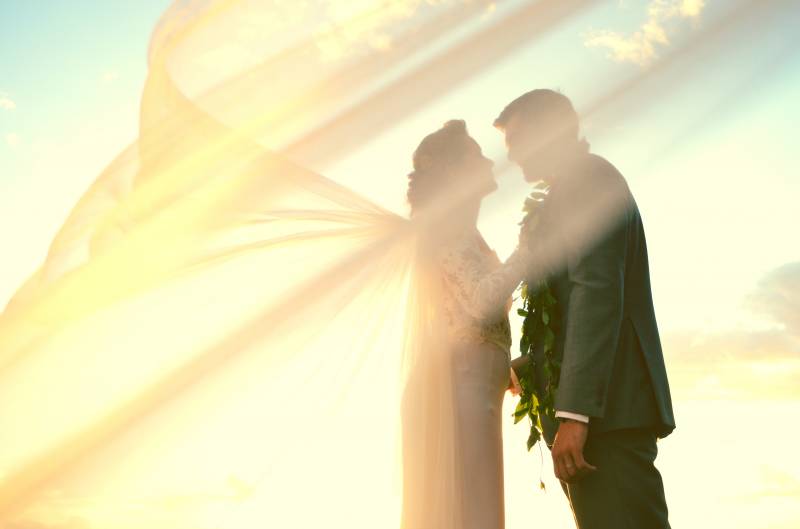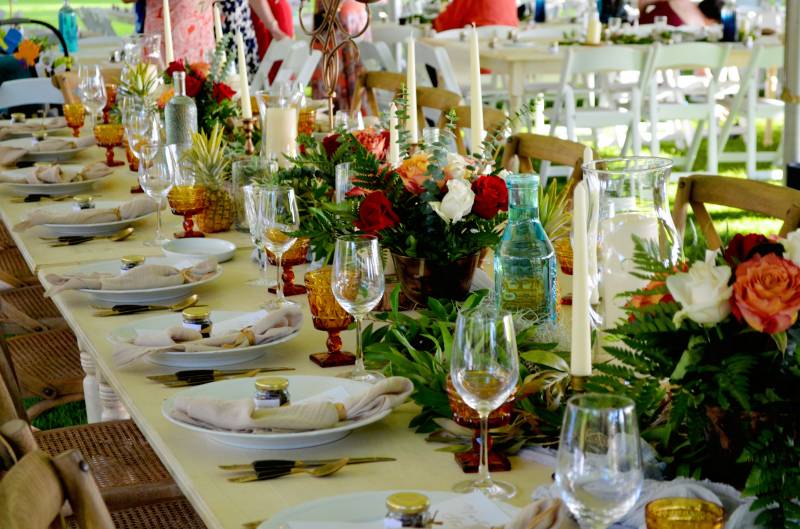 The couple ate their first meal together using vintage Thai cutlery from the bride's grandmother. They toasted to their marriage with peach liquor handmade by her grandfather's girlfriend using peaches from her backyard.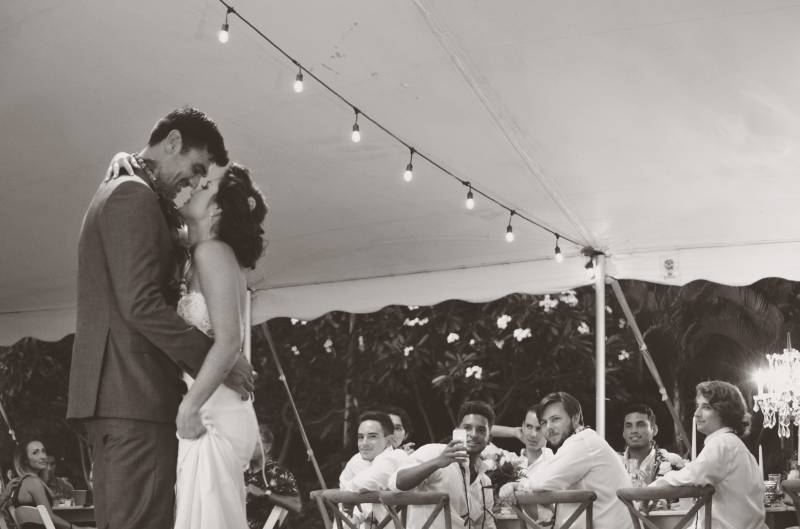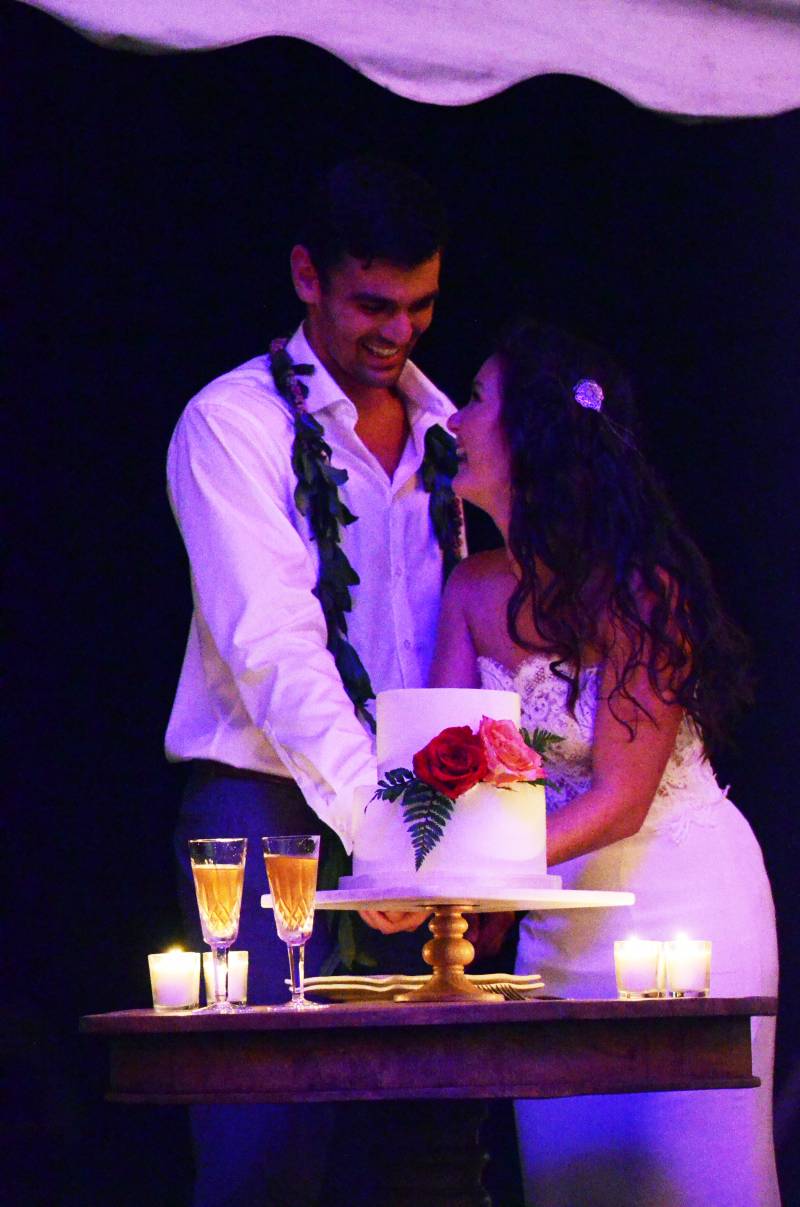 From the Bride:
My most cherished memory of my wedding is seeing everyone that we loved most in the world in one place. It is a type of pure magic that only happens once in a lifetime. So many of our dear friends and family members took part in making our celebration a reality that we could almost physically feel the love and warmth around us throughout the entire evening. I will forever remember that our marriage began in a flurry laughter, hugs, and dancing!
See below for Ashley and Rocky's playful wedding video by Kairos Media.