After a busy first year of marriage (including a new baby and finishing school), Sierra and Anthony returned to Maui for their one year anniversary. But little did Anthony know, Sierra planned an amazing vow renewal in the same exact spot they were wed overlooking Kapalua Bay.
Anthony had no idea that his wife had such a special evening planned. He was surprised with an outfit to change into and a special note from Sierra telling him to meet her on the lawn where they were married. When Anthony arrived at sunset, he was met by
When Anthony arrived right at sunset, he was met by the officiant who performed their marriage and a candlelit ceremony spot. Sierra arrived soon after carrying their baby. Everything played out flawlessly, and the magical evening begun.
Maui-based photographer Wendy Laurel captured the incredible vibrancy of the vow renewal to perfection. She shared all of her favorite moments with us:
"Lorrie from Unveiled Hawaii designed the vow renewal with a nod toward their original wedding details, but with a more romantic, intimate feel. The vision was something out of an enchanted dark fairy tale. It was dreamy. And with the coastline of Kapalua at sunset, where just one year prior Sierra and Anthony celebrated with 162 of their closest family and friends at The Montage, it was just that. Dressed in a Hayley Paige black long sleeve, illusion floral beaded bodice and tulle skirt, Sierra made her way to Anthony, holding Sage, their baby girl. The ceremony was lit with 100 candles in a semi circle on the ground and a string of twinkle lights above. The ceremony started as the sun went down over the Pacific Ocean and continued through twilight."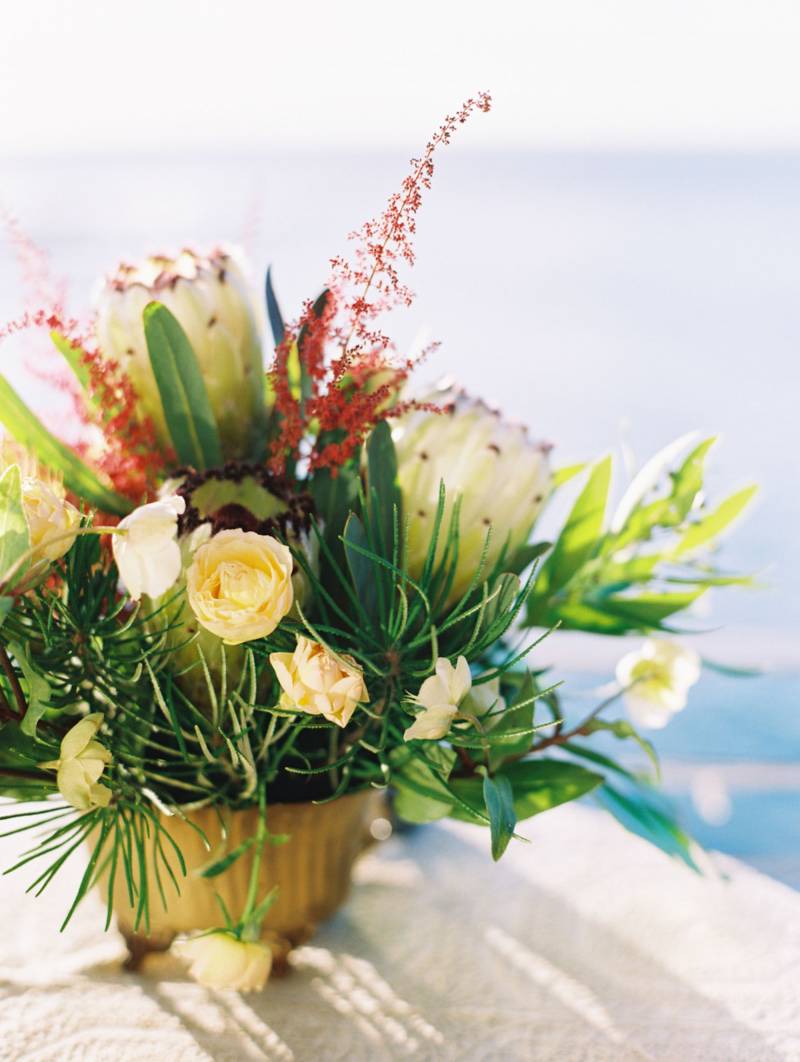 "If that was not enough, enter Common Kings; the surprise performers from last year, specially organized by the bride as a nod to their love story and songs that had significant meeting. They did it again, however this time in a very private, acoustic performance setting, of which after the couple took their seats, the faint singing of a special rendition of their hit single 'Fly' being softly played, and then slowly the wine drapery was pulled back, exposing the last surprise of the evening.
Shocked wouldn't have described the feeling you could see on Anthony's face. It was more a look of adoration and love, beaming as he looked at Sierra, shortly after a long embrace, asking her for a dance. They would then enjoy their dinner alone with the crashing waves below the Cliffhouse, later joined back by the band and a few special friends, and most importantly, Baby Sage, who all enjoyed a special private performance made just for them."