Today we are sharing a couple fun and festive mocktail recipes using two delicious and health-packed kombucha flavors by Health-Ade Kombucha.
This first recipe features Heath-Ade's Power Greens and is paired with refreshing mint and energizing matcha for a little extra boost! It's perfect to serve on a sunny afternoon enjoying time with incoming friends and family during the wedding week. Or skip the jittery coffee and sip on this revitalizing bubbly mocktail with sustainable matcha energy while getting ready with the girls the day of!
MINT MATCHA KOMBUCHA MOCKTAIL
Original recipe by Ashley Cuoco
Servings: 6
Ingredients:
2 cups mint leaves
2 tablespoons honey
Juice of 4 limes
2 cups chilled club soda
2 bottles (1 pint each) Health-Ade Power Greens
3 teaspoons Matcha powder, plus more for sprinkling
6 mint sprigs, for garnish
6 large ice cubes
Directions:
Muddle the mint with the honey and lime juice in a large pitcher.
Add the Power Greens, club soda, and Matcha powder and stir well until powder is dissolved. Chill in the refrigerator,
allowing the mint to infuse for 30 minutes.
Prepare 6 chilled glasses with ice cubes. Strain drink through a fine-mesh sieve, dividing equally between glasses.
Garnish with fresh mint sprigs and a dusting of matcha.
Enjoy chilled. Refrigerate up to 3 days.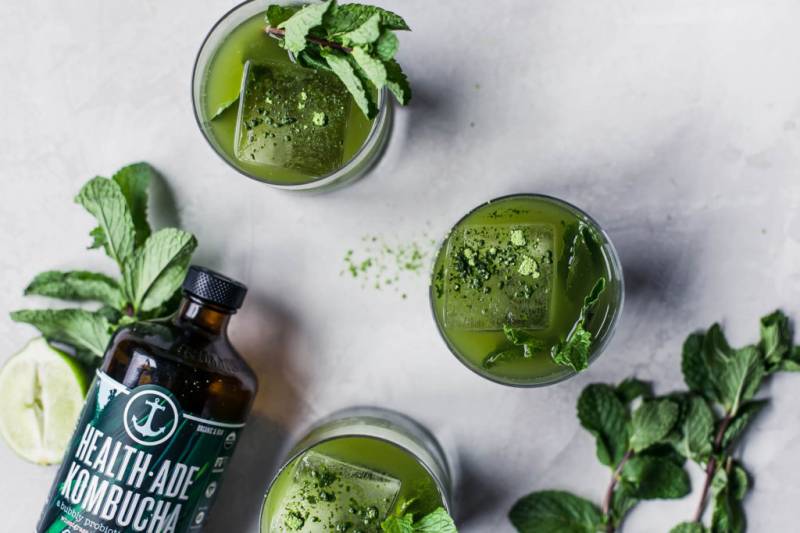 If you prefer something with a little more of a kick, then this Blood Orange Cayenne Cleanser is for you. This is a fantastic option to help cure a hangover at the morning-after brunch. Sweet blood orange and calming carrot juice balance out the punch of the Cayenne Cleanser for an easy sipper sans alcohol.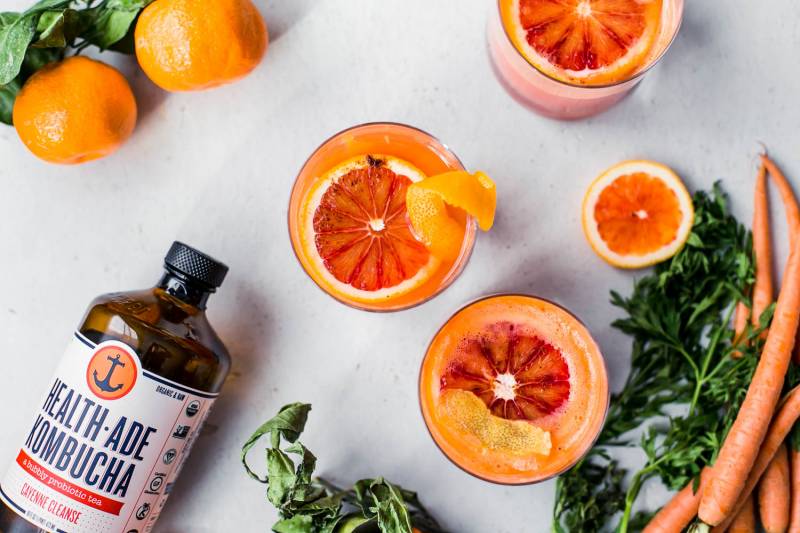 BLOOD ORANGE CAYENNE CLEANSER
Original recipe by Ashley Cuoco
Servings: 4
Ingredients:
1 bottle (1 pint) Health-Ade Cayenne Cleanse
Juice from 4 blood oranges, plus 1 sliced blood orange for garnish
1 cup carrots, peeled and finely chopped
Juice from 1/2 lemon plus zest for garnish
1 cup ice cubes
Cayenne pepper, for sprinkling
Directions:
Combine Cayenne Cleanse, orange juice, carrots, lemon juice and ice into a high-powered blender. Blend on low, slowly increasing to high speed. Blend on high for 1 minute or until smooth consistency is reached.
Strain drink through a fine mesh sieve once or twice. Divide drink equally between 4 cocktail glasses. Serve on ice if desired.
Use a vegetable peeler to peel 4 long ribbons of lemon zest. Place 1 ribbon into each glass.
Slice remaining blood range in wheels and place one face up in each glass.
Sprinkle a pinch of cayenne pepper into each glass. Enjoy cold. Refrigerate up to 2 days.