In collaboration with Darren of Events by Darren Keala, local Hawaii fashion designer Maggie Coulombe has created a striking bridal line that reflects the islands of Hawaii through weightless, breezy fabrics and nature-inspired prints that perfectly reflect the color palette of our beaches.
The dresses are sophisticated and simple, but bold in the sense that they are not your traditional white or ivory. Photographer Nicole Brooke Rosen gushed over the designer's collection, "When Darren told me that the multi-talented Maggie was in the process of creating a bridal collection in collaboration with himself, I couldn't wait to see. Maggie is the queen of celebrations and Darren has been her right hand man for all things design and details. I know the two of them will come up with a collection that is fresh, unique and sophisticated."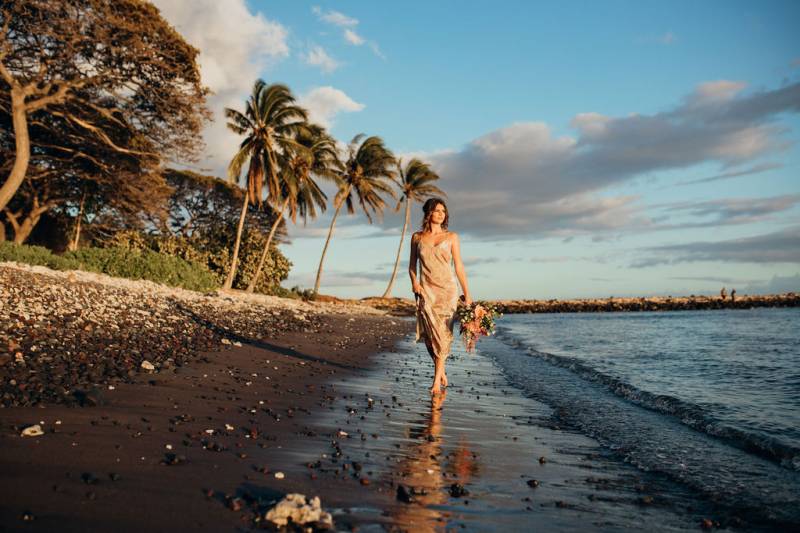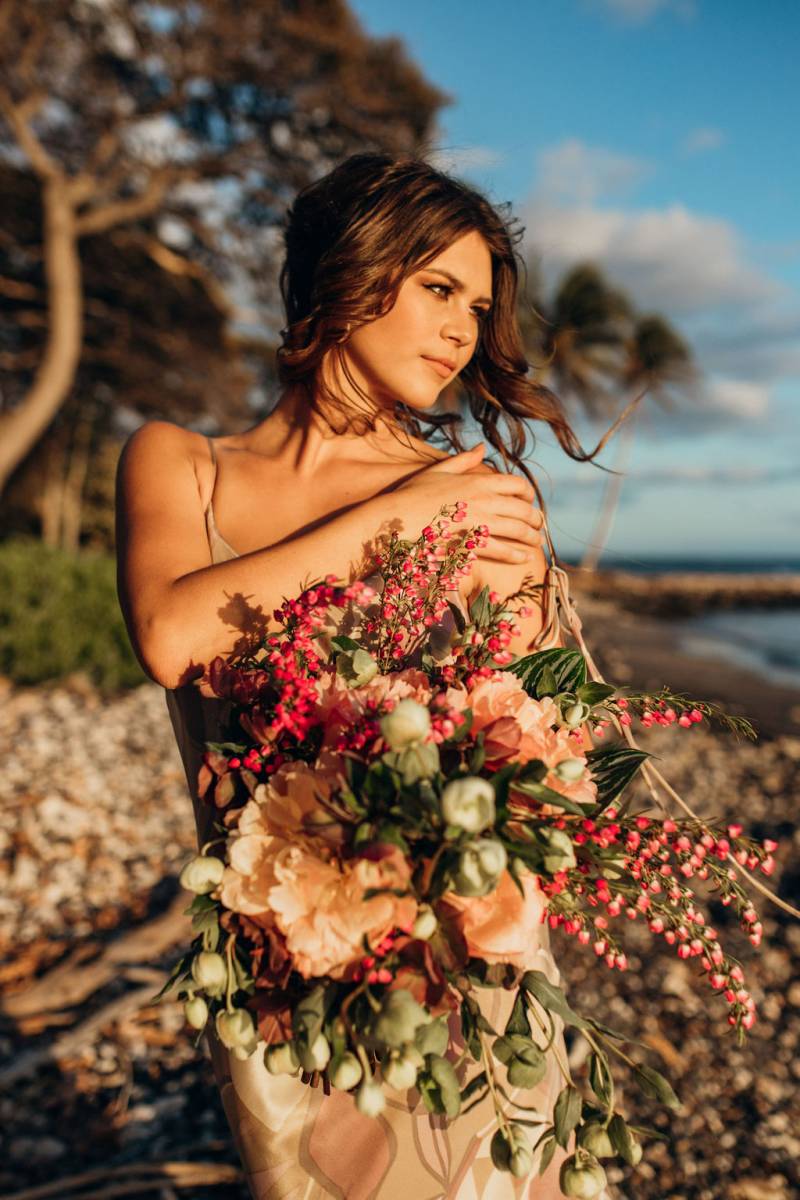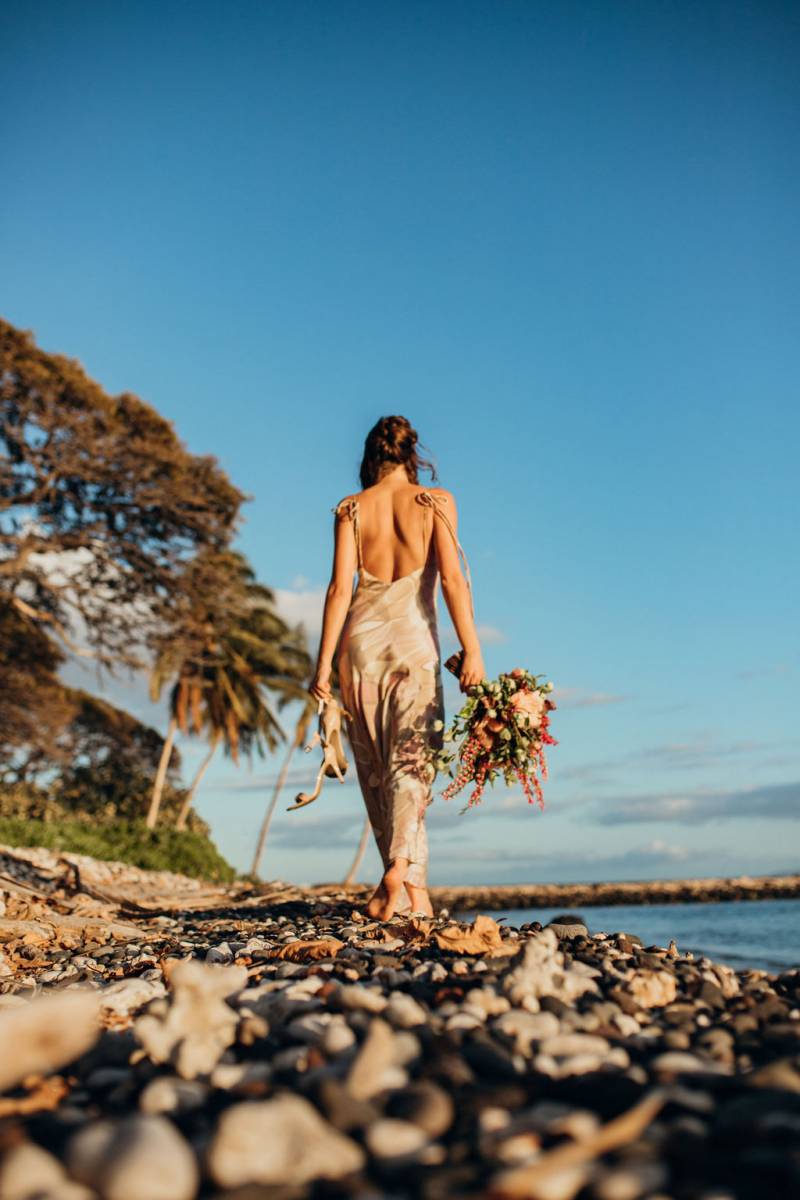 "Between Maggie's 100% silk Bias Gown and my new favorite bouquet that Darren created, I felt so inspired. I thought it was so fitting that Maggie's son and his girlfriend were our models, especially since the gown was originally designed for Maggie's own wedding years ago! Sydney and David made the shoot so fun and easy--their sweet love really brought the designs to life with such an honest, youthful, and romantic glow. Plus- Sydney is absolutely meant to be in front of the camera!"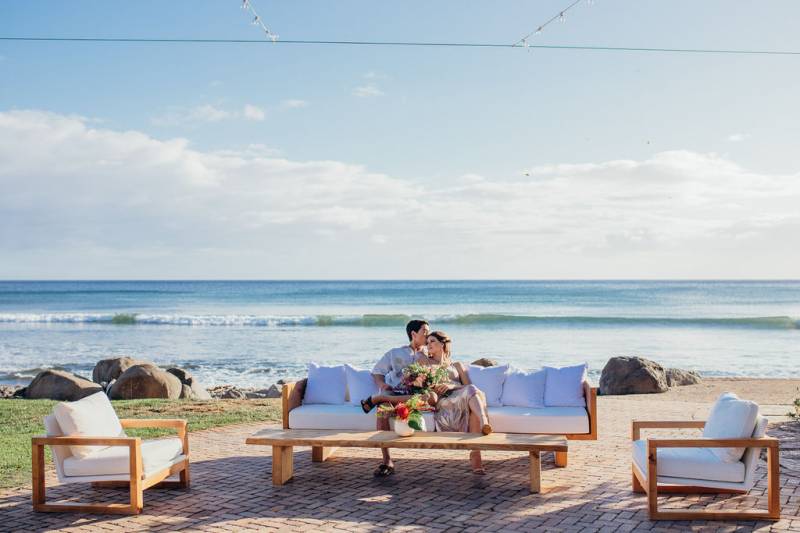 "I really loved how the dress was not your typical white wedding dress. The water-color palette picked up the glow of the setting sun so perfectly and the open back and long sassy straps were the perfect flirtatious accents for a seemingly-subtle yet stunningly one-of-a-kind bridal look. I cannot wait to see the rest of Maggie and Darren's bridal collection!"