Today we are sharing the sweetest love story as told by Chao's bride Angela. With only a few months of planning, the couple traveled to the island of Maui to marry at the stunning Haiku Mill. Fine art floral designer Teresa Sena hung enchanting white flowers above the ceremony space. It felt like a fairy tale garden! And PW Preferred Photographer Tehani Bella captured every precious moment shared between Angela and Chao.
The Relationship's Beginnings:
"Chao and I met on a Chinese dating website called 'Love Peas', which symbolizes love and fidelity in the Chinese culture based on a heroic love story in Chinese history. When we met for the very first time, Chao came to my house to pick me up with his bright red sports car. My heart sank and I thought this guy might not be the one for me. But, after a few dates, I realized that he is such a reliable, honest, and intelligent being and my impression about him changed. Chao learned how to cook from scratch to continue my family tradition that a man cooks for his family. Chao also resigned from his job in San Diego and moved to New Jersey to be with me, where I was starting graduate school. For us, the 'cutest story' is the act of mutual love, consistent respect, and unconditional devotion to a relationship. Recently, Chao traded in his red sports car for a family-friendly white SUV, and I think this is the coolest ride that a man can pull off to impress his girl."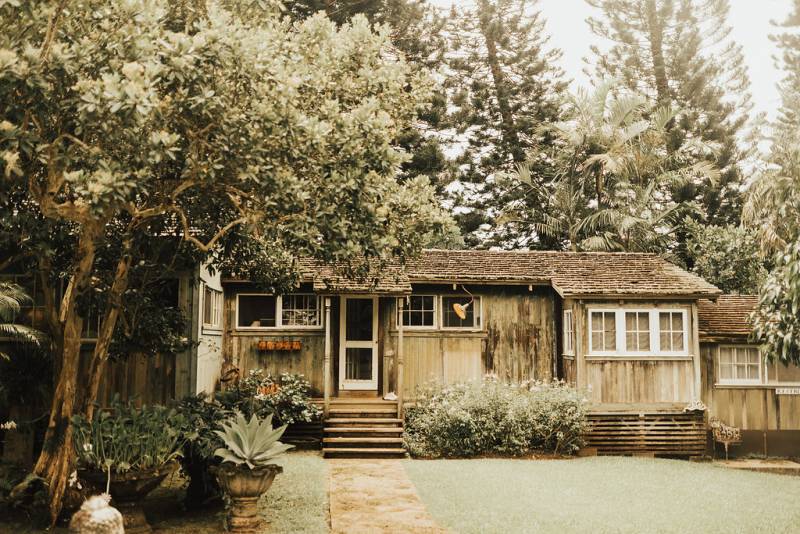 The Wedding Planning:
"We planned our wedding from afar with the help of Haiku Mill's coordination team. We budgeted and prioritized what was most important to us. Our splurge was to have Teresa Sena as our florist, who combined magnolia leaves, succulents, hanging orchids and peonies to create an airy and whimsical space to celebrate our magical moment. Our guests told us they felt like they were part of a fairy tale!"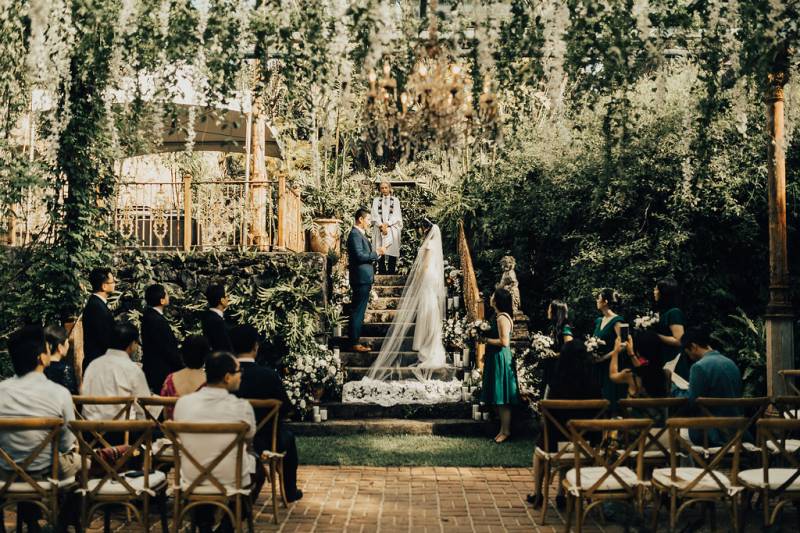 The Wedding Style Inspiration:
"I always wanted an intimate wedding that combines vintage and natural elements. 'Where Old World Europe meets natural Hawaiian splendor' is an accurate description of what inspired our wedding style, whish is how Haiku Mill describes itself. The one part of the wedding that we cared most about is the ceremony, as we felt the sacred commitment of our marriage witnessed by our parents and friends is the essence of a wedding. For this reason, we had a ceremony combining both traditional and tailored handwritten vows that we have kept safe on our nightstand as a reminder of our beautiful wedding."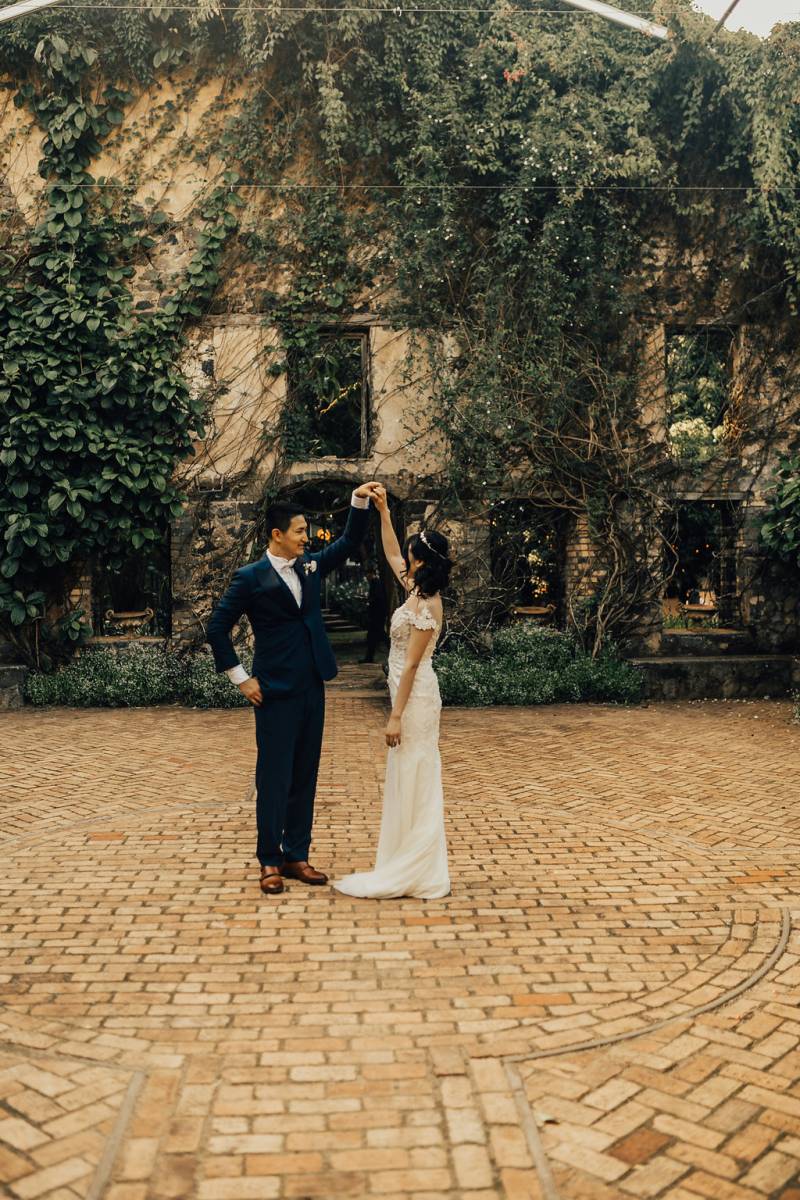 The Wedding Venue:
"We chose Haiku Mill since I was born in Hawaii but grew up internationally. So I always wanted to get married there to complete the circle. When we read about Haiku Mill being the perfect balance of Old World Europe and natural Hawaiian splendor, we immediately knew that this would be the perfect place to get married.
Also, 'Haiku' represents the oath of unchanging fidelity to love in the Chinese culture-- translating to 'oceans may dry up and rocks may crumble, even when that happens, I will never stop loving you.'"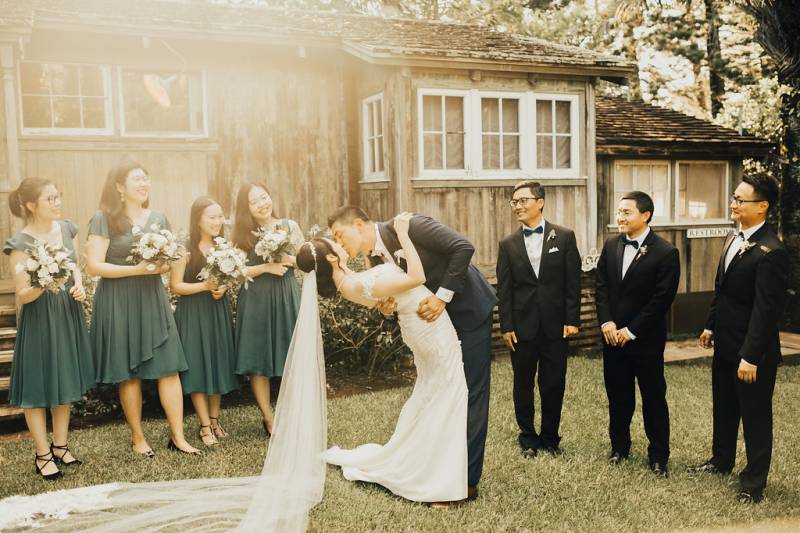 The Wedding Dress:
"I chose my wedding dressing solely based on love at first sight. It was by Liancarlo and was actually the first wedding dress that I have ever tried on, and I immediately fell in love with it as it just felt like 'me'. I like gowns that convey vintage and are simply styled, and felt the blossom-dotted bodices inspired by paintings brought the dress to life. Also, the way the gown was tailored was a fusion of western classic wedding gowns as well as the traditional Chinese Cheongsam styled gowns, which is a vivid representation of my cultural identity. As I had chosen a clean-cut gown, I wanted a more elaborate statement veil. I was fortunate to find the hand-sewed veil from LT Couture Atelier on Etsy to complement the dress and they turned out to be a great fit with each other."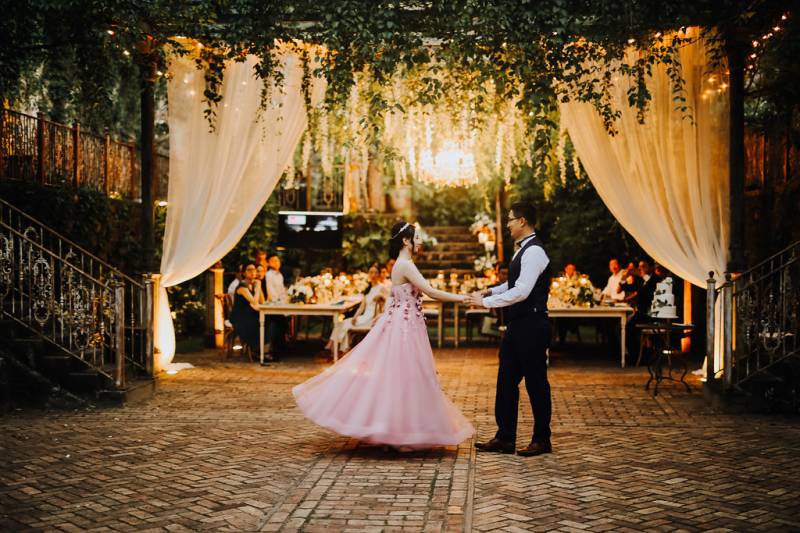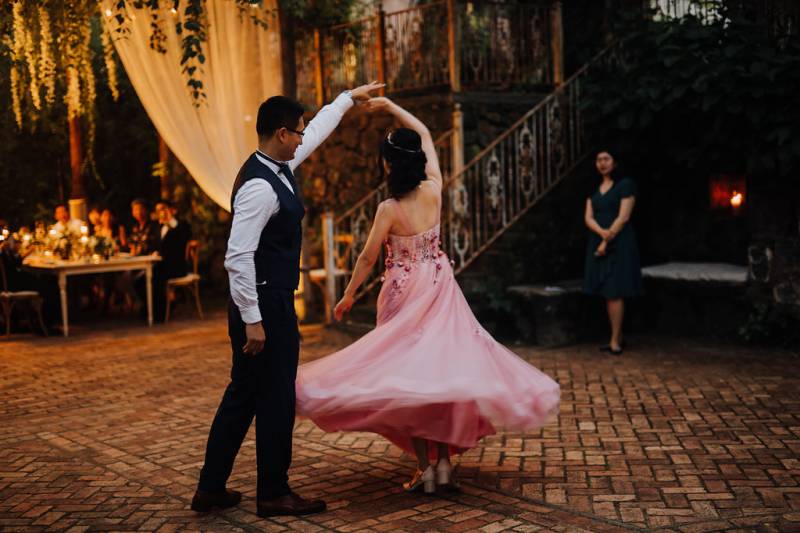 In addition, since we were in a time crunch of about two months to plan for this wedding, we are very grateful of all the thoughtfulness, support, and extra hours that the Haiku Mill team devoted to making our wedding so magnificent and meaningful. So thank you Miriam, Shelby, Rachel and Dane for your efforts and professionalism in the process. We will be forever grateful!