Planning their wedding together, Natalie and Michael knew instinctively that the peaceful setting at Beaulieu Garden in Napa Valley would be ideal for a family gathering. The bride, who admits to a fondness for things that are "simple, yet elegant" recounts the personal significance of Wine Country saying, "Michael had taken me to Napa on a trip for the first time after my first year of law school. We fell in love with it right away. We knew at that very point that it would likely be the venue for our future wedding." They were just as decisive when it came to making a final selection for the reception. Friend and wedding consultant, Jocelyn Arelt, took them to Beaulieu Garden, which perfectly suited the outdoors-loving couple. Natalie laughs, "We walked the property and canceled all of our other appointments. The venue was beyond perfect and an exact representation of us as a couple."
Celebrants gathered for a grand dinner party in the Beaulieu arbor, surrounded by rustic vineyards and manicured gardens. Natalie still gets misty-eyed when thinking about the celebration, saying, "Our wedding felt like a dream. I felt like I was awake and present in a real dream." Tables were dressed in the laidback luxe of a beautiful French garden party with loosely arranged rose centerpieces in shades of pink, orange and peach with pale green linens. The bride's preference for unpretentious elegance dictated that the flowers "feel like they had been picked out of the gardens of Beaulieu." Placed in beautiful distressed urns, the roses did, indeed, look like they had just been plucked nearby. Natalie's bridal bouquet was just as lush and beautiful, a dome of creamy garden roses in full bloom.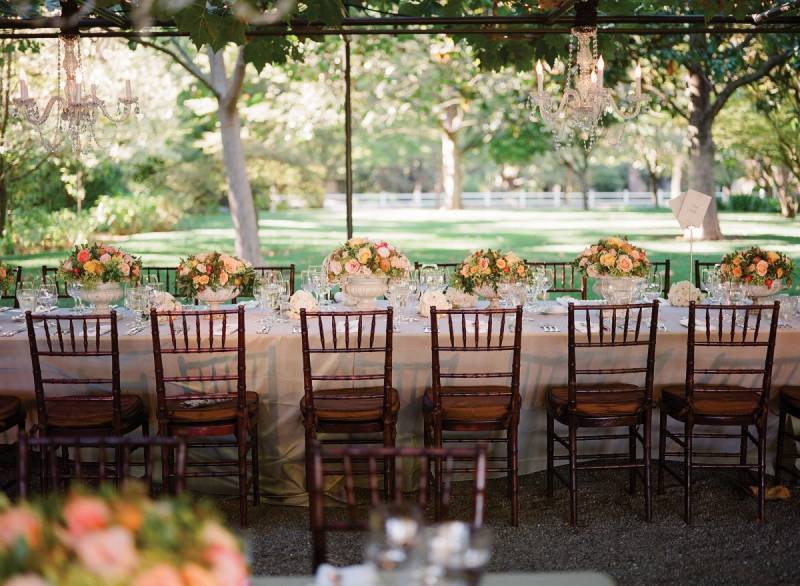 Dinner was served on impressive family-style platters prepared by Paula le Duc, and guests dined on delicate Chilean sea bass accompanied by the couple's favorite local wine, Peju.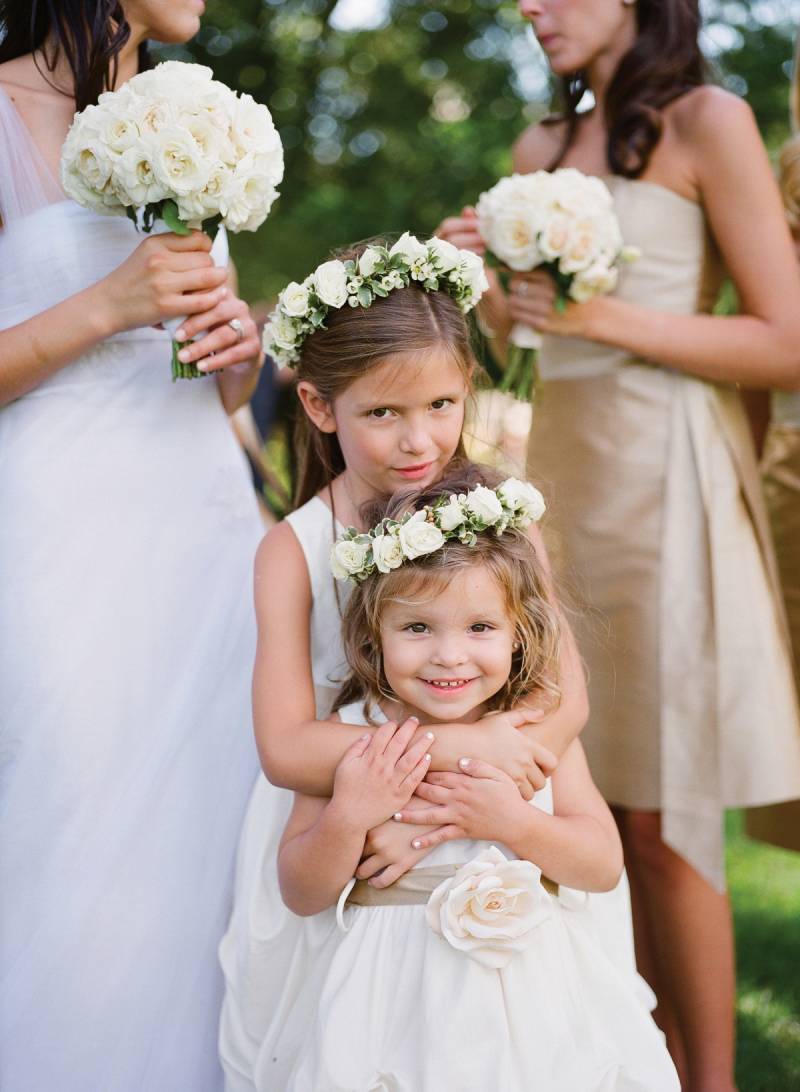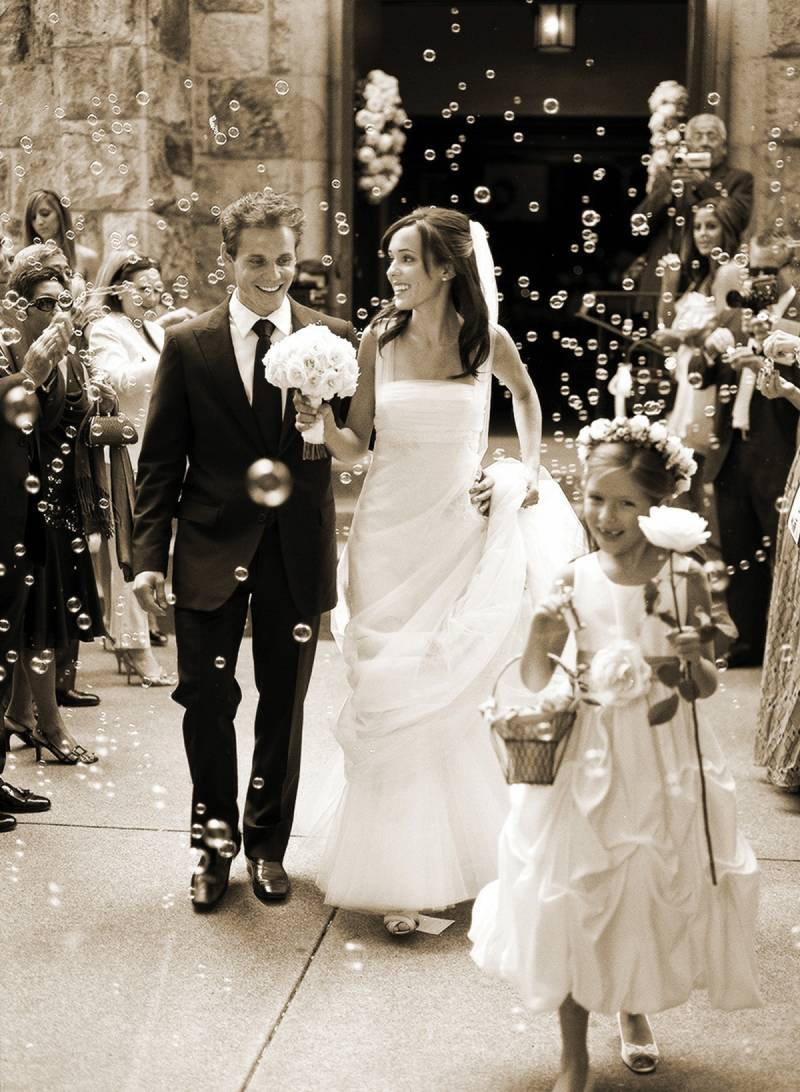 Natalie's effortless beauty was even more radiant in a stunning gown by Vera Wang, with her bridesmaids in pale champagne silk dresses by Coren Moore. Michael and his groomsmen were in good company wearing tailored Prada suits and Tom Ford ties.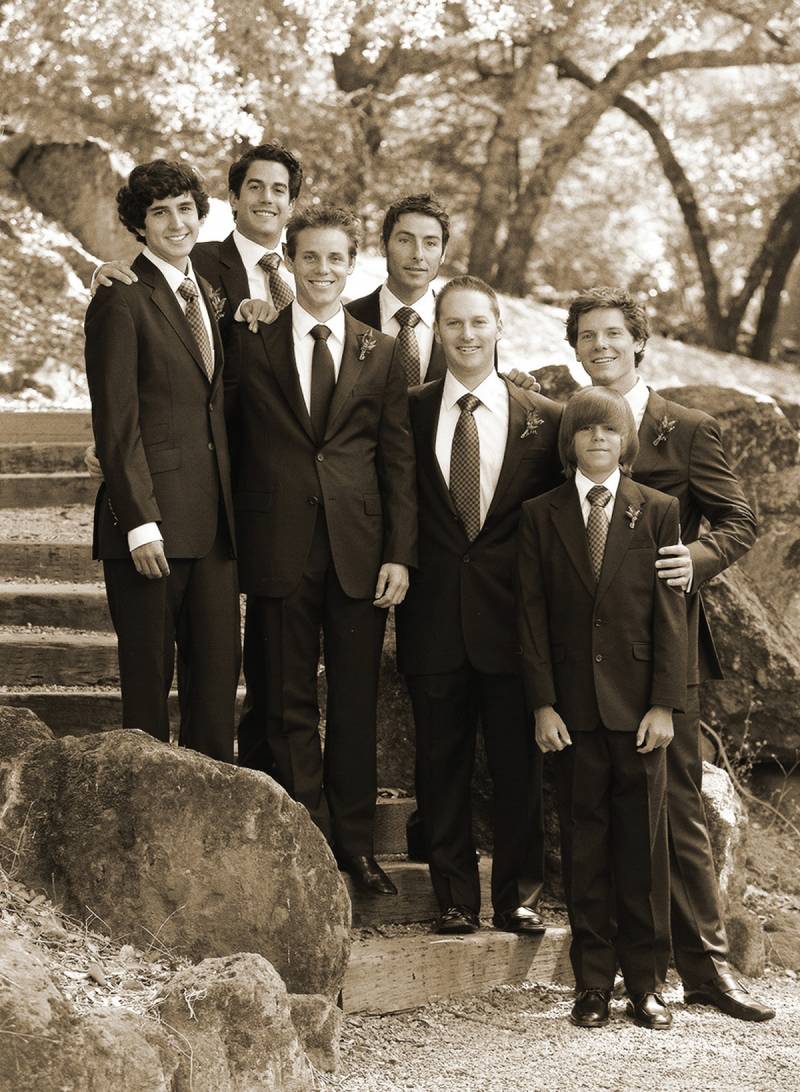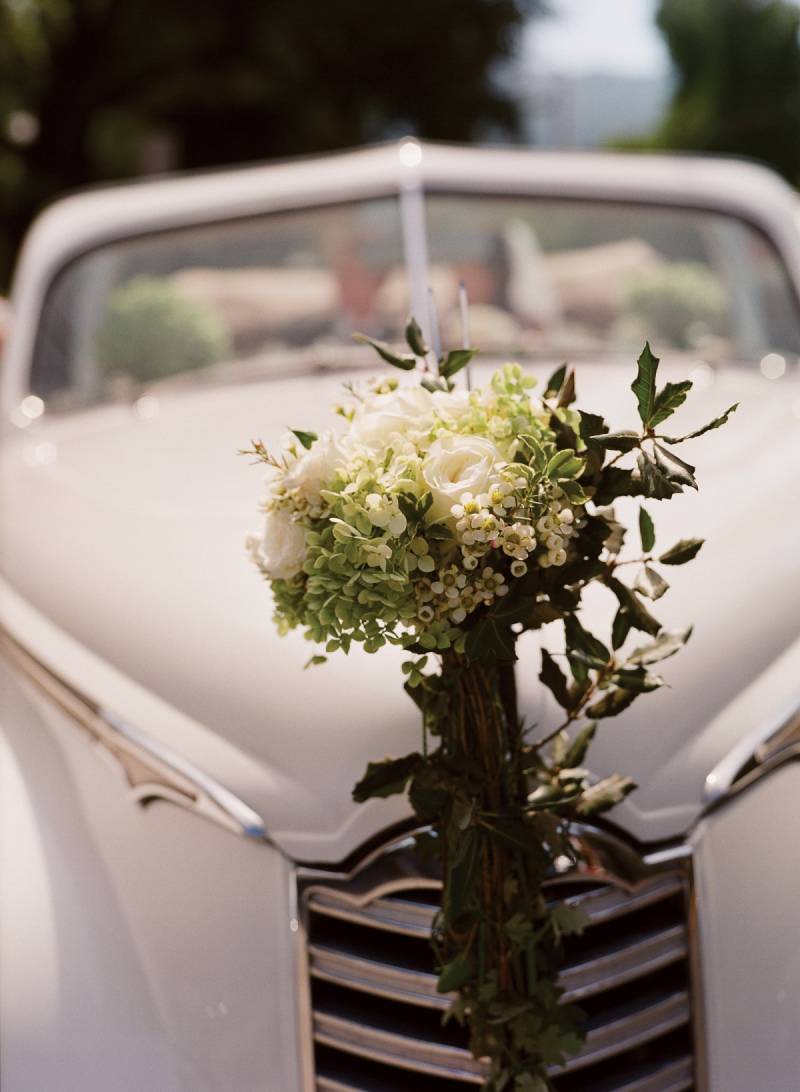 Amid a shower of rose petals and laughter, the elated newlyweds were whisked away from the church in vintage style and spent their first private moments together as a husband and wife before heading to the reception.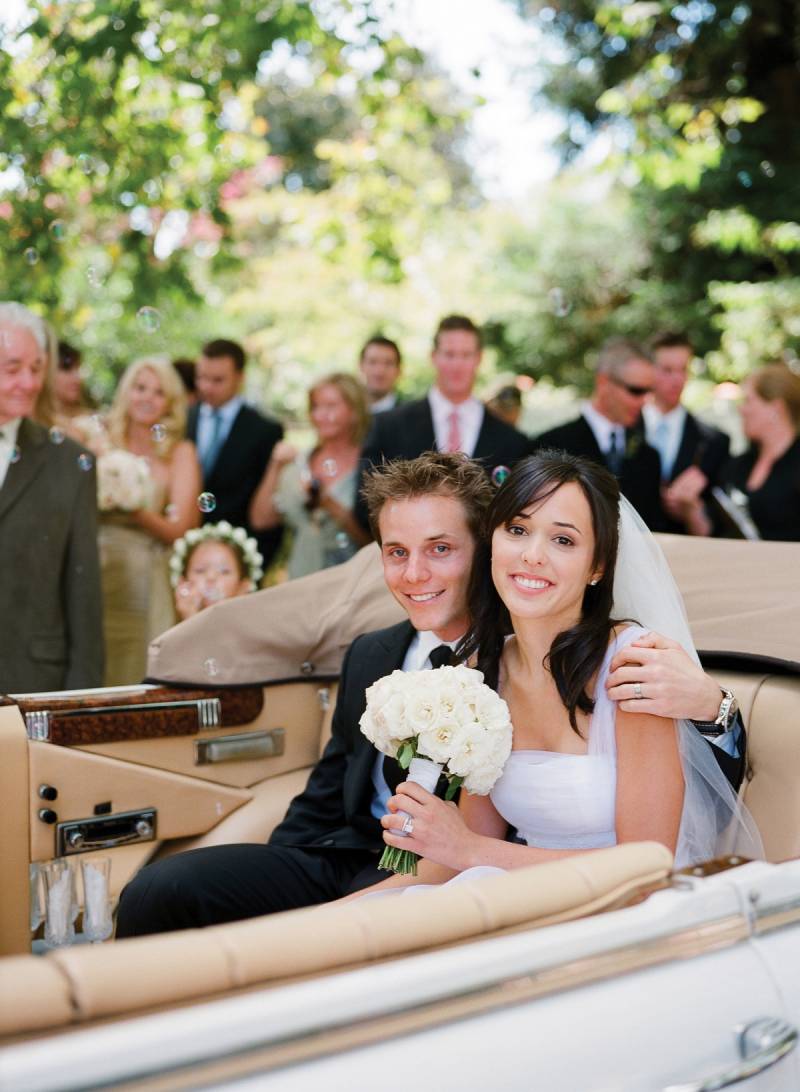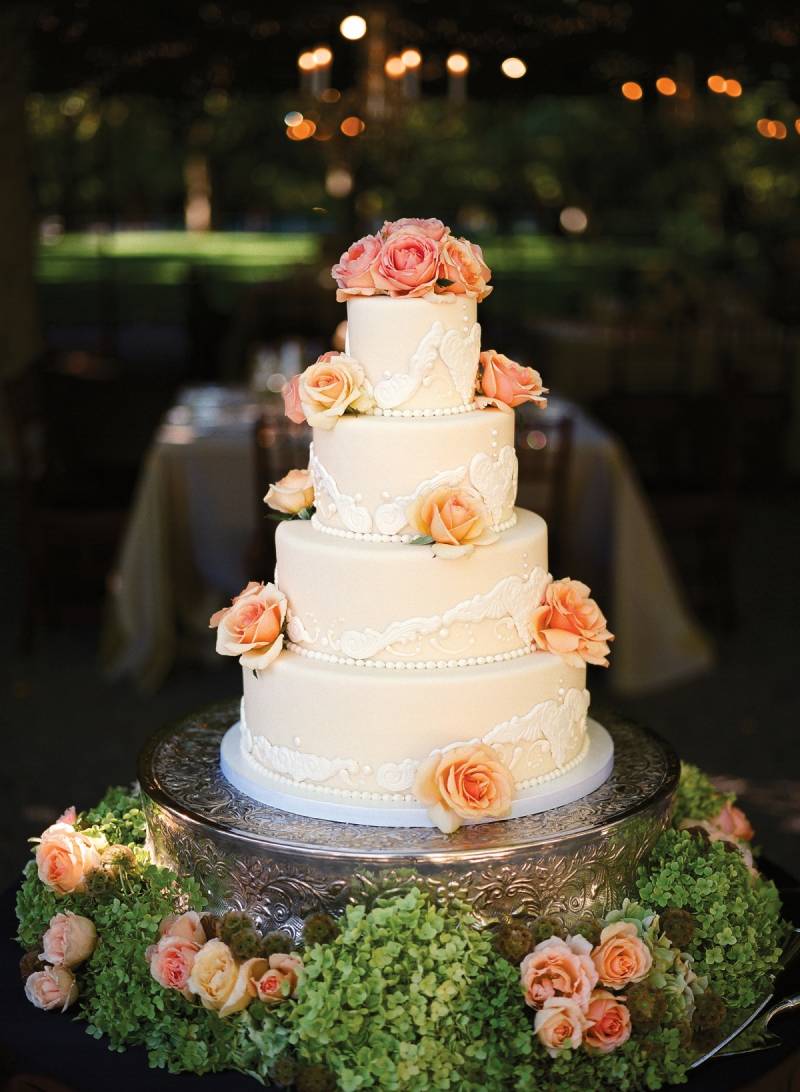 Encouraged to linger after dinner, guests sipped the newlywed's signature cocktail, Limoncello, and enjoyed the beautiful fondant-covered cake designed by Perfect Endings in keeping with the French garden motif.