When it came to their wedding day, Ashley and Ben pushed the design envelope entrusting Natasha Lisitsa of Waterlily Pond Event and Floral Design with the modern-meets-rustic scene. "When I first met with Ashley and Ben, they each
brought "mood boards" so I could better understand their individual styles," Natasha says. "They could not have been more different." While Ashley's vision was very feminine, sweet and nature-inspired, Ben leaned towards a 1920s jazz era look that was more masculine and architectural. Natasha merged their concepts in a stunning array of vistas. Their wedding originally appeared in the Winter 2014 edition of Pacific Weddings, and today we share Part II of their story.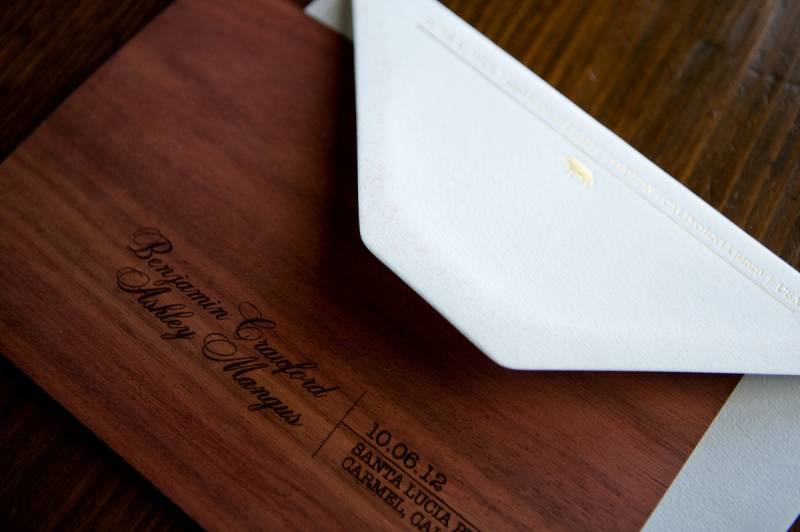 Ashley and Benjamin secured the Santa Lucia Preserve in Carmel-by-the-Sea after she happened upon photographs of the private redwood grove. "It stopped me dead in my tracks," she says. "The ceremony site is beneath 100-foot redwood spires-- it looks like an ethereal and natural cathedral. I was sold." For the Marin, California natives, navigating the winding roads towards Carmel Valley was like traveling back in time. "The property has an air of the roaring 1920s, and the nature instantly takes your breath away," Ashley says. Ashley and Ben reveled in sharing the quaint and romantic woodland community with their out-of-town guests, most of whom were first-timers to the area.